BIKE "CAMPSITE TO CAMPSITE" THROUGH

THE SAN JUAN ISLANDS...
WAKE UP TO THE SOUND OF BIRDS OUTSIDE YOUR TENT, WATCH THE SUNRISE OVER THE CASCADE MOUNTAINS AND THEN PREPARE TO CYCLE UNTIL YOUR HEART'S CONTENT. JOIN US AS WE BIKE ACROSS THE PACIFIC NORTHWEST'S LOPEZ, ORCAS AND SAN JUAN ISLANDS.
These majestic islands will lead you through beautiful winding hills, rolling pastures dotted with sheep and along steep, seaside cliffs. You will have the opportunity to witness amazing wildlife such as bald eagles soaring over head or a chance to look into the eyes of a deer that crosses your path.
Bike and camping tours range from 2-6 days
All meals are included in the tour price
No experience necessary
Small Group Sizes
Fantastic Meals (Breakfasts, Lunches, Dinners & Snacks)
Comfortable Hybrid Cannondale Touring Bicycles
Amazing Views and Wildlife
Fun and Energetic Guides
Spend a Day Kayaking or Take a Whale Watching Wildlife Cruise
Beautiful Country Cycling Routes
Fully Van Supported
"Our tents and sleeping bags worked very well...we loved all of our meals and our guides went out of their way to provide us with anything to make our trip more enjoyable."
"Our days were planned great with enough free time, good start times and terrific biking..".
Mike Miller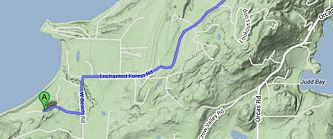 TIMES AND DISTANCES
We cycle an average of 25-30 miles during each day but can add mileage if you would like more distance. We usually begin our activity around 10 am and finish around 3-4 pm. Terrain varies from island to island but most areas are easy (gentle rolling hills) to moderately hilly. Routes run along the low-traffic country roads and you can stop whenever you like to check out the amazing views or visit a local art studio along the way. We offer a support shuttle so that you can catch a lift at anytime.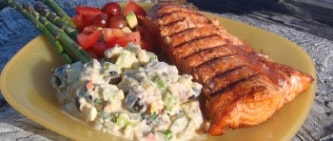 GOURMET MEALS
Starting with lunch on the first day and ending with lunch on your last day we provide all meals in between. We feel that what you eat can be a major factor in the quality of your expedition and therefore we proute ourselves on the quality and heartiness of our well prepared meals. Prior to your trip we send out food questionnaires and customize all of our meals to the various dietary requirements of our guests.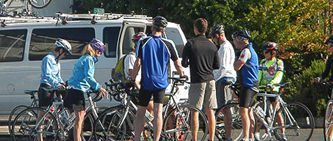 PROFESSIONAL GUIDES
We strongly believe that an outstanding professional guide can make the difference between a good trip and a fabulous trip, therefore we place a lot of emphasis on providing the best guides available. We choose guides who are friendly, knowledgeable, have a great attitude, are excellent leaders, great teachers and who love what they do. We provide two guides on all of our bicycling expeditions groups of 6 or more.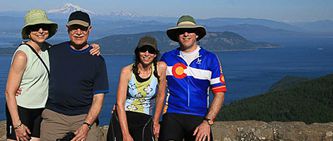 SMALL PERSONAL GROUPS
A great trip involves many factors. One of these is the group size. A smaller group is safer, allows for more interactions between the guides and guest and gives our guests a chance to know each other. Furthermore, we can also adjust and modify the trip to the individual desires and interests of the group, allowing our guests to participate in various activities ranging from birding to advanced kayaking to custom bicycle routes for more mileage to photography. For all these reasons and more we keep our regularly scheduled multi-day expedition group size to 10 guests.
Lighthouses
Moran State Park
Cattle Point
Bald Eagles
Fox
Shorelines
Sunsets
Sea Stars
Vineyards
Orca Whales
Sculpture Park
Seals
Deer
Dall's Porpoise
Blue Herons
Alpacas
Bull Kelp
Lavender Farm
Beaches
Mona the Camel
RELAXED CANCELLATION AND REFUND POLICY
61 or more days before the trip date, full refund of all payments less a $30 per person cancellation fee. 31-60 days before the trip date, guests will be charged 50% of the entire trip cost. 0-30 days before the trip date, guests will be charged 100% of the entire trip cost and no refunds will be made. All cancellations must be in writing and charged amount is determined upon the date of receipt.
SEA KAYAKING TOUR OR WHALE WATCHING TOUR INCLUDED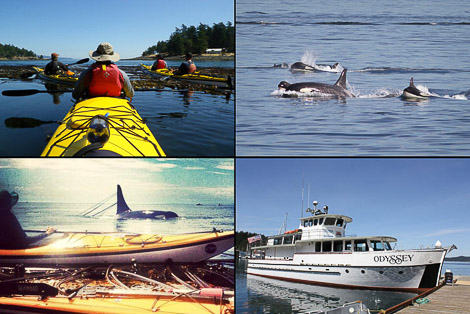 We also take a day to sea kayak or whale watch where you may spot an orca whale, minke whale, seal, or sea lion. At the end of the day, enjoy camping at its finest. Our professional guides will assist you with setting up your camping gear leaving you with time to relax while we cook the most delicious cuisine you have ever had in the great outdoors. Sleep in top of the line Kelty Dome tents on comfortable Therm-A-Rest sleeping pads. If you don't want to bring a sleeping bag, we can provide one for you.
Make a Reservation